Attract your DREAM clients.
Create photos that guarantee you stand out from the crowd.
We are SO right for each other
 As a Fashion Designer turned Personal Branding Photographer I am driven to create something for you that is one of a kind.  I spent my career as a Designer creating concepts & telling stories through carefully curated visuals.  Because of this experience I am able to express a unique voice & vision in my discipline.  I take a bit more of an eclectic approach to derive ideas, style & inspiration from a broad range of unlikely sources.  If this sounds like something that resonates with you then we are probably meant to work together.
Not the right kind of Chemistry
I would not consider myself to be a cookie-cutter photographer.  I am not driven by volume & mass production.  I prefer to stay away from carbon-copy techniques & trend.  If that sounds like it is more your style then we probably aren't meant to work together.
The Approach | 3 Key Elements
#1 Analysis
Through many in depth conversations, I take time to learn and understand your business goals and who your ideal client is.
#2 Framework
Throughout the design development process, I build the foundation and strategize the visual messaging for your ideal client.
#3 Storytelling + Style
I will design concept boards to build out your unique visual brand story.  These visuals will give your online image the wow factor.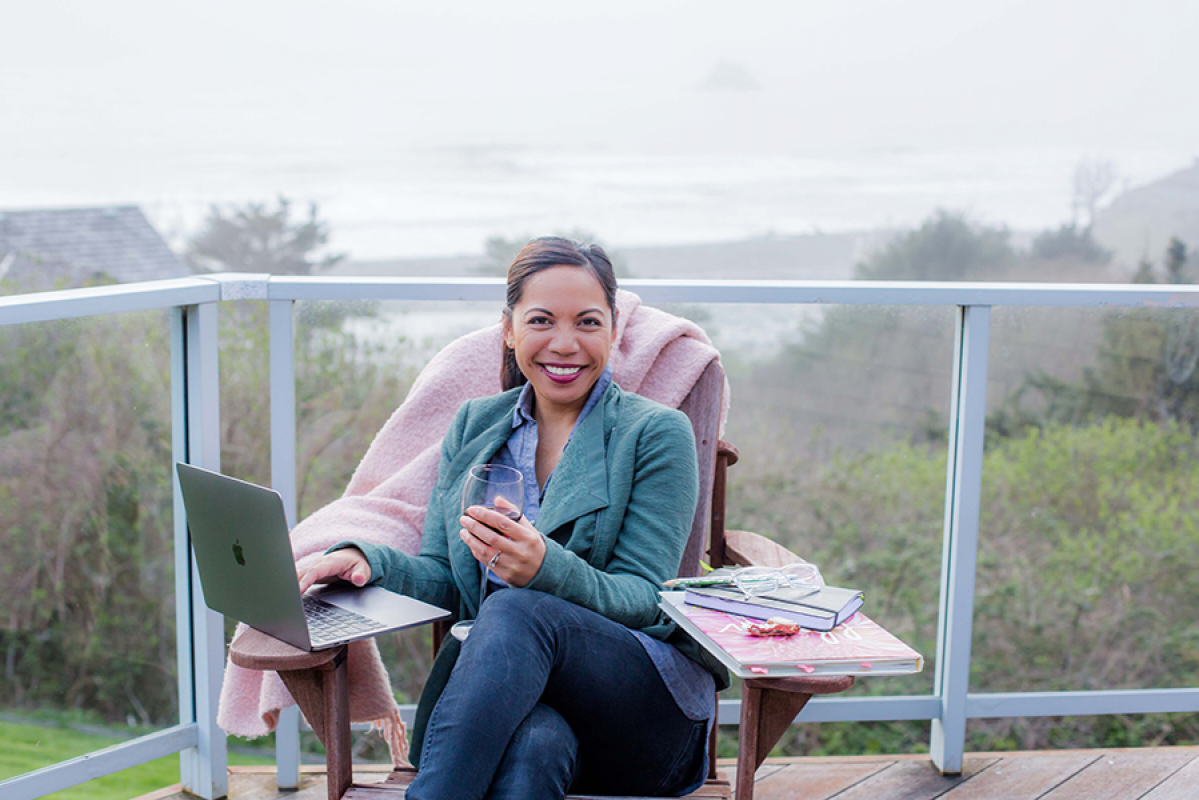 What your Personal Branding Photography experience will include –
Every step of this design process is very intentional. I will layer in customized creative vision within the framework of an in-depth strategy.  This gives your visual identity both style as well as substance.
This customized design process provides a very personalized experience as I develop an effective, stunning, visual identity for your brand.
Approximate Project Duration |  4 – 5 Weeks
30 minute Discovery Call

Personal Branding Deep-Dive Questionnaire

In person Pre-Shoot design consultation to collaborate ideas

Custom designed digital color & concept boards for initial review & sign off

Location scouting

Personal styling & wardrobe direction

Optional 1:1 Professional Personal Style Session (includes 6 rentable wardrobe pieces) available on request for an additional fee

4 – 6 Unique looks  & locations

Hair styling & make up guidance & resources (on sight MUAH available upon request for an additional fee)

Custom curated 6-8 hour  photo session

75+ Color corrected images to use for your website, blog & all social media platforms

Full website branding evaluation + brand consistency coaching + resources

Recommendations on how to best utilize your new photos

Coffee, Lunch & Healthy Snacks provided + lots of chocolate & bubbly!
Your brand Investment starts at
$2000
$2800 – For travel within the Continental U.S.
$3500 – For travel outside of the Continental U.S.
Ruby was able to help me narrow my focus on who my target audience is for massage through a detailed questionnaire which created the outline for my story. She then created inspiration boards for my focal points. The visual acuity it brought helped to constellate my many facets into one cohesive story. In my response, with her intuition and years of expertise in branding, Ruby also challenged some of my notions to bring about clarity. This process brought life to Maya Moon Massage with creativity, humor and presence. I would absolutely recommend Ruby to any of my friends, colleagues and community who are looking to take their business to the next level, be it just starting out or expanding and diversifying your brand. Love you Ruby!

Maya Moon Massage

Working with Ruby for our engagement photos was a delight. She helped us plan our style, instantly put us at ease, and captured "us" perfectly. The Photo shoot felt like a stroll in the park with friends.

Ruby's quick eye for a great shot enabled us to flow from one moment to the next while she photographed it all. She has made this the most enjoyable part of our wedding planning so far and helped us preserve priceless memories.

Thank you Ruby!

Seattle, WA

Ruby takes beautiful, natural photos and is a true professional.  Before our mommy and son (2yr old toddler) session, Ruby took the time to get to know us on a personal level.  She wanted to capture the joy, laughter, and tightly woven bond that my son and I have together and she accomplished exactly that!  The day of the shoot I was super nervous.  I just never know how my toddler is going to behave.  I didn't know if he would be still enough or even be willing to pause ever so slightly for Ruby to get a shot.

All that nervousness soon disappeared when she got started.  Her approach was so calm, gentle and so quick it allowed my son to just be himself.  There was no pressuring him to be in awkward poses and no anxiety for me to reach that expectation.  Ruby was amazing!

I highly recommend Ruby.  Her work speaks for itself, but working with her was also such a pleasure!

Seattle, WA

Working with Ruby Somera Photography is a wonderful experience! Have worked with a variety of photographers for my events I've become accustomed to different styles and varied interactions. Ruby raised the bar on these experiences. She listened to my goals, wonderfully captured the entire event, and curated the images to present a well-rounded collection of photos that highlight the best moments of the evening. I look forward to working with Ruby again!

Merchant Method, Seattle WA

As a new business owner of an interior design business, I quickly learned how important my "brand" was, my brand being ME! How I dressed, how my Instagram looked, and the uniformity of my website became very important. I knew having good photos of me was an important piece of this branding puzzle, but I was afraid to do it. While I'm an outspoken extrovert, I hate to be the center of attention. Taking myself out of my comfort zone, I signed up with Ruby for a personal branding photo session.  Ruby had great ideas for my shoot locations, and made me feel super comfortable during the shoot. She was open and honest with my when I needed to change my smile, posture, and gaze, which led to AWESOME photos. I'm so proud of the photos on my website and social media accounts, and so glad I took that leap of faith with Ruby!

Brooks Vale Design

Prior to finding Ruby, I really struggled to come up with photos that conveyed my brand and personality accurately. Thanks to her, that's no longer an issue. In fact she managed to capture the essence of my brand better than I thought anyone could. I have no doubt that was due to her taking some time to learn a bit about both me and my business before she even started with the story boards - she's a real pro! Ruby is incredibly good at what she does, and really fun to work with too. I'm so happy to have found her, and can't wait to do more shoots together in the future. If you need a talented photographer that understands 'brand' story, she's your gal!

Seattle, WA

I was in desperate need of some new photos for my website and upcoming events I wanted to post online. I didn't feel like the photos I had represented me very well, but I was also nervous to find a photographer because I am terribly uncomfortable in front of a camera.  After talking with Ruby and looking at her work, I had a sense I could trust her to help me out...and she is AMAZING!  Not only did I feel super at ease the day of the shoot, but our time together was actually fun and I loved the photos she sent me!  I typically have a hard time finding 1- 2 photos I like from a shoot, but with Ruby's approach there was such an abundance to choose from that I really loved.  I would HIGHLY recommend working with Ruby.  She's so warm and incredibly easy to work with.  I would especially recommend her to anyone who struggles with awkwardness around a camera.  It was a really great experience!

Counseling Psychologist, Coach and Founder of Lady Bosses MeetUp

Ruby has a unique gift for capturing the essence of a person. I was looking for a photographer to capture my brand in an intuitive, authentic, and professional way, and she was spot on. Not only were the photographs beautiful, Ruby is such a wonderful soul to work with. She has an authentic, open and constantly growing nature. Her skill, professionalism, and authenticity make her someone I look forward to coming back to time and time again for creative collaborations. Hire her!

Live by Design

With launching my financial planning company I needed photos of myself that were authentic.  I had to come across as my honest, intelligent, approachable self since people will be trusting me with their money. I thought this would be tough as I am a numbers girl and in no way creative, but Ruby was able to articulate what i needed and made it happen!  I now have 25 absolutely gorgeous photos I use for my company website,

LinkedIn

and marketing materials.  Ruby is incredibly talented, professional and makes the process easy (photos were taken in under 2 hours with 4 different outfits!).  Her branding photography services are worth every penny.  You will have photos of yourself that speak your brand, making you feel more confident and thus business follows. I can't recommend Ruby enough.

Townsend Financial

Working with Ruby was a joy. I don't enjoy taking photographs, but I felt instantly comfortable with Ruby. We talked before our photo shoot, and she provided useful advice and preparation. During the photo shoot, she put me at ease, selected creative locations, teased out natural looking poses and made me laugh. All of which resulted in just what I was looking for!  Well worth the investment, and in the end, quite enjoyable!

Principal Consultant
Let's get acquainted!
Ready to take the leap and up your online game?
Click on the button below to connect.
The Process
Step 1 -- Let's Connect

Step 2 -- Ideas and Collaboration

Step 3 -- Say Cheese!

Step 4 -- I'll work my editing magic

Step 5 -- Your brand story comes to life. That's a wrap!
 Wish your brand could be a lot more Stylish & a little less"So-So"?
Click below to get your FREE guide on How To Take Gorgeous Personal Branding Photographs that will 'WOW' your ideal clients.
Get it today & make your Brand officially ROCK!