If you're someone who's frustrated and confused about how to make your business a success and you know you have something amazing to offer…
Then I think you're going to love this!
Tired of trying to figure it all out on your own?  
Maybe you got laid off of your 9-5 corporate job or maybe you left willingly.  Either way, it finally hit you, you were meant to do something bigger with your life.
So you enthusiastically embarked on your entrepreneurial journey only to realize that it was a lot harder than you thought it would be.  Your gifts and talents just aren't enough to pay the bills.  There's a whole other side to doing business that you forgot to think about and that's marketing.
But marketing is tough when you don't know what you're doing.   Especially if you hate selling and you never want to come off as being pushy or sales-y.
Which is why you're here today.
There's a simpler way to have a successful business.
Want to learn the money-making move that will change the way you do business and have a huge impact on your life?
Girl, I have been in your shoes.
I started my business in early 2017, I got clients, but it wasn't easy.  I was grinding, hustling, and chasing.  I was spinning my wheels and getting burnt out fast!
Going back to corporate wasn't an option.  So I had to figure out a way for my business to work for me instead of me working for my business.
And that's when my life turned around.  I learned how to turn my website and emails into powerful selling tools.  That is the key to building a successful online business.
Create a website and emails that work for you on autopilot!
Introducing the
Copy to Convert Masterclass
The 6-Step System designed to teach you how to use persuasive copy to sell your products or services from an authentic place.  Not sales-y, but true to you and your brand.
Inside this course you're going to learn how market your products or services from a place of empathy and compassion.
In just 6 short weeks you will know exactly what to say on your website and in your emails that will actually inspire your dream customers to convert.  No more guess work.  No more copying what your competitors are doing or saying.
Not only that, but because of my extensive background in design and branding, I'll show you how to lay out your website and your emails so they look beautiful and totally on brand.
Your brand will be uniquely your own and your dream customers are going to love you for it!
Module 1
The Core Principals of Copywriting
Learn the psychological tool of persuasion used for the ultimate good of your customers.
Module 2
Know your Audience – Ideal Customer Clarity
Understanding their deepest fears and desires is the key to starting and staying in business.
Module 3
Make your Website a Selling Machine
A no-nonsense approach to crafting an effective website that will make you more money even while you sleep.
Module 4
Design your Website Landing Page
Create a consistent brand experience that will appeal to your ideal customer and is authentic and true to you.
Module 5
Hook your Email Subscribers
Your complete step by step guide to creating raving fans and selling without being sales-y.
Module 6
Increase your Opens – The Inbox WOW Factor
Learn to create GORGEOUS high converting email campaigns that your customers can't wait to open.
Maybe you're thinking, but I've tried everything, and nothing ever works…
I get it.  There is a lot of noise in the world.  Experts and gurus giving you conflicting advice and information.  You don't have the time to test out all those theories.
Trust me, I was just as confused and overwhelmed as you are right now.  I listened to all of the experts and gurus and guess what…I sifted and sorted through everything that worked and didn't work so that you don't have to.  Most of it took a lot of time, money and energy to execute.
I created this course to help you cut right through all the noise and give you something that's easy, actionable and will lift you out of the grind.  All of this so that you can make more money and have more fun doing what love!
Sound good?
This is the game-changer you've been waiting for!
Are you ready to do this?
This is for you if –
You want to increase your earning potential
You want to make money doing what you love
You want to have a positive impact on the lives of others
You're ready to serve your higher purpose
This is not for you if –
Your excuses are stronger than your WHY
You've gotten used to being paralyzed by fear and anxiety
You're ok with low-balling your worth (and your worthiness)
You're blind to your amazing potential
Sign up Now and Get my Limited Time Introductory Offer and SAVE $400
List Price $997
With the Copy to Convert Masterclass you will have lifetime access to go back and review any modules that will help as you continue to grow and scale your business.
It's designed to give you the tools you need to help you refine your marketing message and give you brand consistency –  so you can create loyalty and trust from your dream customers.
As you continue to refine your marketing message you will be able to use that language for any new services or products you develop for your brand.  Everything will become easier for you.
The trick is to get crystal clear on your brand, understand what your ideal customer really wants and then flex your empathy muscles so you can speak in a way that will resonate most with them.
You're going to LOVE IT!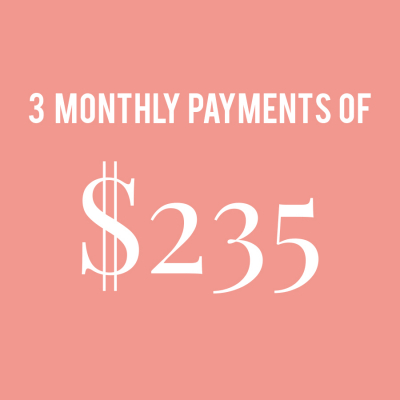 I first realized how amazing Ruby's services were when we met to hone in on my ideal client and brand messaging. I was so impressed with how she was able to translate my vague and rambling thoughts into clear and targeted messaging.

It's incredibly exciting to see my new website messaging and brand imagery! I didn't even realize how much better my website could be.

She incorporated images from our photoshoot and targeted messaging to my ideal customer to come up with a cohesive, branded website, where each page highlights my brand vision.

there is no stress on what to do with all the amazing materials she gave me, just a sense of excitement for what's coming next!

Reena Raavi Designs, Interior Designer
Take advantage of the LIMITED TIME discount TODAY!
This course is JAM packed with everything that I've picked up in my 18+ years in brand development, design and strategy.  This introductory price is going away soon…like REALLY SOON!
Entrepreneurship can feel lonely, but you'll get all the support and encouragement you need in our private Facebook community.
Mentoring, coaching and guidance from yours truly
Peer support and accountability partners
All your implementation questions answered quickly
Additional design tips and resources that will support your journey
Opportunity to share your work for feedback and growth
But that's not all you're getting!
A website layout and an email strategy to get you all dialed in and ready for conversion in just 6 short weeks!
Rest easy knowing that your website and emails are working for you on auto-pilot
Opportunity to step away from the overwhelm so you can start positively impacting the world by doing what you love!
No more endless rabbit holes of searching on google!  You'll have all the resources you need right at your fingertips.
Ask yourself, where do you want to be 6 months from now?
This course is a one stop shop to get you crystal clear with your marketing message and consistent with your branding.  Start building trust with your dream customers so when it's time sell, they will be nothing but excited to buy what you have to offer.
Since launching my new website, I feel such relief in knowing my online presence is working for me 24/7 so I can focus on doing the work I love. It doesn't feel like marketing, it feels like me.

I'm proud to share my site far and wide, knowing that I am attracting my ideal clients through all the purposeful attention to detail that went into creating it.

And did I mention how pretty it is? Ruby truly went above and beyond for me, and I couldn't have asked for more.

Creative Types Coaching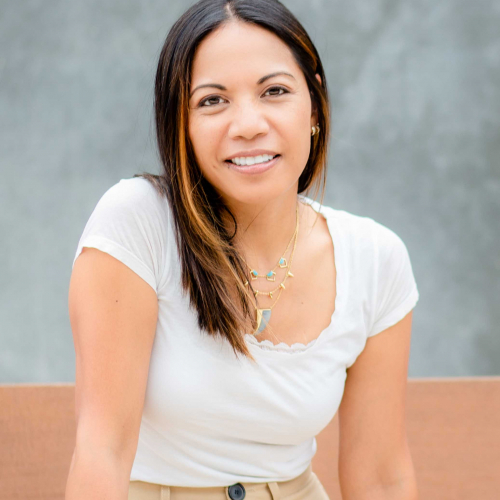 FOUNDER + CCO OF RUBY SOMERA DESIGN STUDIO
I have been in your shoes and can't wait to teach you everything you need to know so that you can grow a profitable online business, too!
Creating a profitable brand has literally given me the life of my dreams and ample time to spend with my family.  I love knowing that I'm finally able to do what I love while also having a positive impact on my community and the world.
I've experienced first hand what it feels like to transition from thinking that working for corporate was my only choice to living a life that I choose to create.
And I've done it all.   I've scaled my business from grinding and hustling start up to having the freedom and flexibility to work on my own terms.
I'm so ready to share all the wisdom that I've picked up along the way so that you, too, can start living the life that you've been dreaming of.
I personally guarantee that these next 6 weeks will change your life and your mindset.
I look forward to being your mentor and your partner.
xo,
Ruby
GOT QUESTIONS? I HAVE ANSWERS!
QUESTIONS ABOUT SIGNING UP
I'm just starting my business, is this course right for me?
Yes, definitely.  I wish I knew all this when I first started my business.  You'll save so much time learning this strategy.
This course will help you build the foundation to start and grow a thriving business.
I already have a business, but I'm ready to scale. Is this course right for me?
Absolutely.
If you're ready to scale your business then you need to take a good hard look at how you're currently doing things and make the necessary pivots.  I made the same shifts a year after I started my business.  I was able to increase my revenue by 3x by using the strategy that I teach in this course.
Do you teach the tech part of building websites?
No.
I can help guide you to find the best platforms for your specific needs, but my primary focus in this course is to teach you what to write, how to lay it out in a fashion that is digestible and easy to understand, as well as give you branding and design guidance for consistency.  All you have to do is plug and play!
QUESTIONS ABOUT CONTENT DELIVERY:
How does the course get delivered?
Each module will be delivered on a weekly basis.  This is to prevent information overload & overwhelm.  It's important to keep  focused on the subject to get the most out of each module.
Module number one will be delivered to you on the first Monday after enrollment.
What if I want to skip ahead?
Each course was curated to strategically build on the other.  You need to be clear on each section before you move on to the next.  Trust me.  The more you understand, the more you'll get out of it.
Do I need specific software to implement any of of the lessons?
Yes.
You'll definitely need to have a website platform that you are either currently using or plan on using.  Also, you'll need to choose an email service provider to start sending emails to your people.  I go over all of this in the course.
Great news – I will also give you information on a new email service provider that I am SO excited about!  You'll also get to have it for a locked in discounted rate.  More on this in the course!
QUESTIONS ABOUT CUSTOMER SERVICE:
What if I have questions about implementing the lessons?
You will have the ability to contact me through our private members only Facebook group.  You just need to tag me and I will get back to you as soon as possible.  Also, some of the other students may be able to provide insights through some of their own experience.  You won't be alone.
What if this course doesn't work for me? Do you have a guarantee?
Yes, I have a 30 Day Money Back Guarantee.
I believe with all my heart that if you have a business then this course will work for you.  But if you're not satisfied with the results, all I ask is that you show me that you've completed all your work so I can see exactly what isn't working and why.  If you're still not satisfied then I will gladly give you your money back.
I want to make this as easy for you as I can, so I've fixed it for you to pay in three installments of $235.  This is an introductory price.   After the cart closes, the price goes up to $997 (or 3 monthly payment of $375).
Don't forget that this investment in yourself is going to quickly reap rewards you never dared to dream of.
You'll be able to position yourself as a premium brand and get paid what you're worth!
ONCE THE CART CLOSES THE PRICE GOES UP!
SAVE $400 AND ENROLL TODAY!
ACT NOW AND GET 3 CUSTOMIZABLE LEAD MAGNET FREEBIE TEMPLATES
So you can start growing your list of dream customers!
Don't Miss Out!
 The Cart is Closing Soon(ish)
days

hours

minutes

seconds
You are meant to do great things!
We all get one life.  This is it.  We are responsible for the choices we make, which means we get to choose how we want to live.
You can choose mediocre or you can choose to be magnificent.
You're here because you know you have something amazing to offer the world.  People are waiting to know about you.  They need you.  But the only way to help them is to convince them that you're the one.
You do that through persuasive messaging.  You can market yourself and still come from a place of love and compassion.  You can be an authentic brand that stands apart from the rest.
I'll show you how.  Join me.
There's no other course in the world like this one!
This is your time.  Don't miss the moment!