SELF CARE – The Real Roadmap to Success
When I say 'self care' I'm not talking about just functioning through the daily tasks of basic every day life, but actually allowing yourself to flourish.  I mean as if you're looking after yourself the way you would a child, with love, kindness and patience.  I believe self care is the real roadmap to success.
For me, self care means being fully present and engaged in life.  When I ignore my own needs I feel depleted.
As a new business owner (and mom of a small child) I've spent the past 4 years of my life putting everything and everyone else before myself.  This created mega stress to my overall health and wellbeing.
I always felt tired, low energy, and physically drained
Something needed to change in order to sustain the pace of my growing child AND my rapidly growing business.
In January of this year I announced that my number one goal for 2019 was self care.  I even mapped it out in the January post called – How to set goals for the real world.
Enter Adam Engelman of Prana 365.
Adam hired me to develop and create his brand (see how we did it here).
I hired Adam to help me feel good in my body again.
The Prana 365 methodology worked to completely transform my physical and mental wellbeing even though I was nervous to get started and afraid that it might not work for me.  But it did and I am completely changed.
There is so much to learn and be inspired from the Prana 365 methods and Adam's years of experience with working with hundreds of people just like us.
Without further ado, meet Adam Engelman, Founder and Chief Fitness Officer of Prana 365.
Tell us how you first got started as a personal trainer.
My father, brother and I would go to the gym together while in high school. It became an essential part of my life.  I loved researching different training techniques and nutritional strategies, and putting together workouts for us. 
When it was time for me to choose a college, my school counselor asked me what I would love doing for the rest of my life.  The answer was crystal clear, to learn as much as I can about the human body and take that knowledge to help improve the lives of others. 
Why was it important to you?
Exercise and healthy living has allowed me to have increased confidence and a sense of purpose that I had never felt in my life. 
Learning to be a conduit for the transformation of others is what gets me up in the morning.  I'm excited to continue learning, growing, teaching and inspiring. 
What types of clients do you typically work with?
I almost always work with people who are living with pain, fatigue and a diminished sense of well-being. 
They are usually the person that gives their all to everyone and everything around them while neglecting themselves. 
Four typical statements I hear from most clients on what it would mean for them to get fit:
Getting to live without chronic aches and pains that are detracting from their joy.

Having an abundance of energy to take care of their family, home, work and then have a little left over for fun stuff.

Reducing the stress of all the pressure they feel to be everything to everybody.

Having some workout time to do something for themselves.
What do you find people are the most challenged with when it comes to sticking to a workout program/ routine?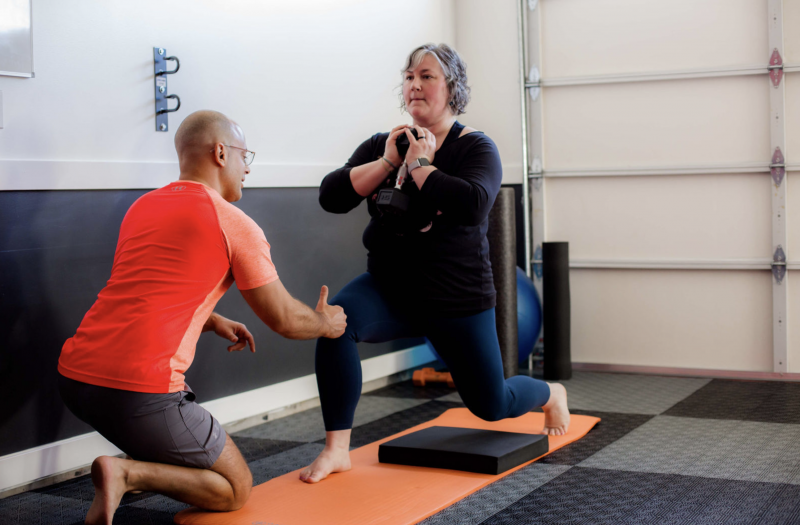 I still sense that people feel guilty about building their own well-being into their day.
 I see that people quite often overbook themselves with obligations while not leaving any time to go to the grocery store, prepare a home-cooked meal, be alone for a few minutes of solitude, or block off time for a workout. 
Many of us saw our parents put themselves last, so we're doing the same. 
How do you support people in overcoming or working through these challenges?
My #1 goal is to help my clients create a paradigm shift.
It's really important to address the underlying cause of why we feel the way we do and why our health is the way it is.  It's not a quick fix.
I slowly and methodically help my clients learn that investing in themselves is not just time well spent, but the foundation that everything – family, friends, home, career, hobbies, your entire life – is built on. 
Taking care of yourself is not a luxury but an essential aspect of not only your life, but for everyone with whom you love and loves you. 
This often involves a reevaluation of priorities.
 It can take months and sometimes years, but I've never encountered someone who didn't feel immensely better once they stopped feeling guilty and selfish for allocating time and energy for themselves, and started prioritizing their well-being. 
What would you tell someone who wants to overcome their current physical condition, but doesn't know how to get started?
Keep it simple. 

Begin with subtle lifestyle shifts that will help you work towards your ultimate health and fitness goals. 

Go for walks with a friend. 

Find easy workouts that are shorter in duration and performable from home as travel time is often a barrier. 

Eat food that is perishable.

Eat when you're hungry. 

Get to bed at the same time each night and awaken at the same time each morning. 

Complexity doesn't equal greater results.
 These suggestions would produce dramatic results for most people on the planet. 
Simplicity leads to sustainability. Sustainability leads to long-term results and quality of life.  
What advice would you give to someone who needs extra help in staying motivated to maintain or achieve their fitness goals?
Having an accountability partner is so helpful with regard to staying motivated.
 Finding a friend, colleague or family member who has similar goals and with whom you trust, can be invaluable. 
Let them know up front what you're trying to accomplish and give them permission to speak firmly with you when you're not taking steps towards your goals. 
If you don't have a good option for an accountability partner, seeking out a trainer who you can trust would be a firm yet compassionate motivator and teacher. 
What is the one thing someone could start doing today to change the way they feel physically? 
Improve your sleep to improve your life! 
Take steps to improve the quality, consistency and duration of your sleep. 
If you really want to get serious, then please download our FREE Beginner's Guide to Feeling AWESOME Starting Today.  This guide is for anyone ready to make positive changes in their life, but isn't sure how to get started.
Tell us more about the product you've developed, who it's for and how it will positively impact their lives.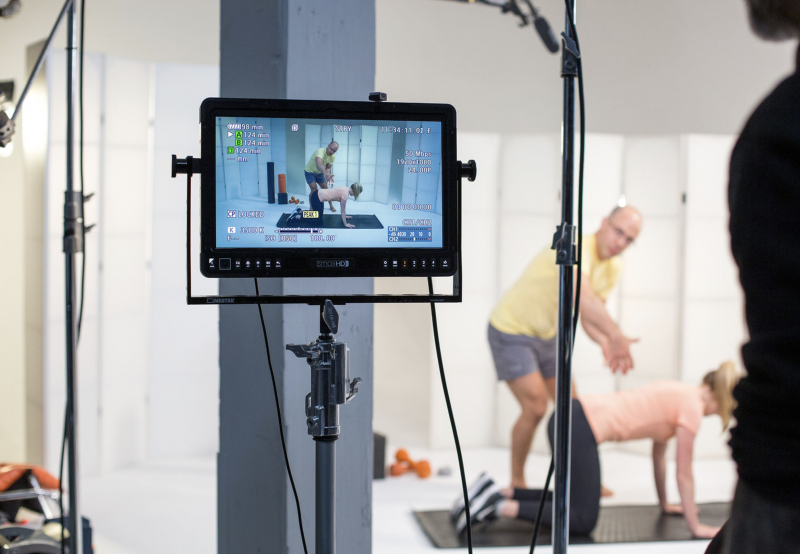 Our comprehensive fitness program is called P365's 12 Week Strategic Fitness System.
This program was designed to help real people with busy lives transform how they feel, how they move and their overall quality of life. 
The essence of the program is in choosing movements that are kind to your joints and possess a low risk of injury while also having strategic progressions embedded throughout so you never get bored and systematically make strides towards your ultimate fitness goals. 
The workouts include simple, functional movements that can be performed at home in little space with a few pieces of equipment (pair of dumbbells, yoga blocks, foam roller and stability ball). 
The mindset we had in designing the workouts was that we want our clients to enjoy the workouts, feel the challenge of the workouts and complete the workouts in a manageable amount of time so you can go on with the rest of your day feeling energized. 
The entire program is based on empirical evidence and best practices for progressing either a beginner, someone looking to reconnect with exercise or someone who already has regular exercise habits. 
We didn't see any super convenient online training programs on the market that had reflected what we had witnessed and learned from training clients firsthand for over 20 years…so we created P365's 12 Week Strategic Fitness System.
Closing statement – What are your strongest beliefs when it comes to personal wellness & self care?
It is our belief that everyone deserves a life of vibrance, energy, confidence and strength.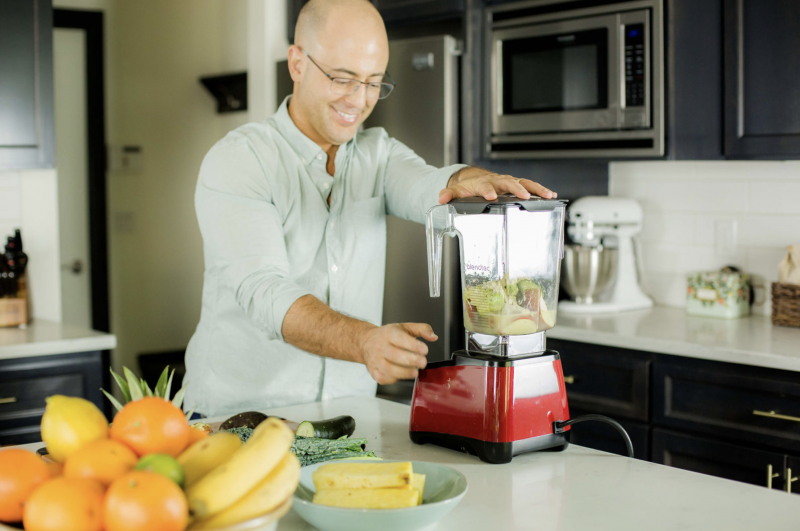 We see all of the stress, anxiety and lack of self care that is pervasive throughout our society today and would like to be a part of the solution. 
It is our hope that with effort, determination, and our program, people throughout the world will experience a life with less pain, more confidence, strength and energy.  
Most of all, we want people to experience an immeasurable increase to the quality of their life. 
When one's effort surpasses their barriers, their potential is limitless!  
Let us know how you're going to take action to make your self care and wellbeing a top priority in your life.  Leave a comment below!