Stories for my Child – Part 1
A Special Mother's Day Series
Becoming a mother can be one of the most profound journeys of our lives. We start out with naive expectations.  We imagine our beautiful, quiet, sleeping child who just coo's & smiles peacefully from their bassinet.
It's not long before we soon learn how disorienting & challenging motherhood is on so many levels of our humanity.
At the beginning, we easily forget who we once were.  We commit to our new reality & resign ourselves to #winning if we can manage to brush our teeth at least once a day.
On the daily, most mothers are in the predictable & relentless rhythm of eating, sleeping, & changing diapers. Although these tasks can seem mundane & ordinary compared to the life we lived before, what is so difficult to realize in those moments is how it will be over all too soon.
Eventually we develop the most incredible sense of self-awareness & self-discovery that is probably one of the most unexpected gifts of motherhood.  It can also be described as "Maternal Bliss".
This is when we truly realize that in the blink of an eye how it all changes.  They grow by the minute, they get bigger & soon become a walking, talking, incredible force of nature.  That's when we find ourselves longing for the early ordinary days of domestic fulfillment.
All we have to remind us are the photos that we keep.
Unfortunately, we are usually the ones behind the camera & there are a lot of pictures of your beautiful child with everybody else but yourself.
For the Love of a Mother to her Child
As a Mother, I understand what it's like to be absent from most of the photos with your kid – unless you're taking a selfie, of course.  Which, I don't know about you, but I rarely find myself looking cute in a selfie.
I wanted to take the opportunity to shine the light (& the lens) on a few of the beautiful mothers I know.
I want to capture the raw & real moments that tell the story behind a mother's relationship with her child.  A tangible documentation of true & revealing emotional love.
It's a gift from one mother to another & a gift from a mother to her child.  It is the visual story of the undeniable love, tenderness & laughter.  It is a candid & intimate memory of a time that will never be forgotten.
Why?  Because the time is now.  Don't Miss the Moment!
Peggy & Evan
I had the great pleasure of spending a beautiful (partly : ) sunny afternoon with Peggy & her 2 year old son, Evan.
Before this photo shoot I prepared an inspiration board for them to help inspire a look they could follow for color & mood.  I'm so happy with the outcome.  (See the bottom of the page for more DIY resources).
Peggy's personal style is natural, casual & romantic, so I tried to pull all those elements together to make sure that she felt totally like herself, but just better.  I wanted Evan to look boyish & a little bit preppy.  Peggy was able to translate all of these key elements from the inspiration board into a look that suited both her & Evan perfectly.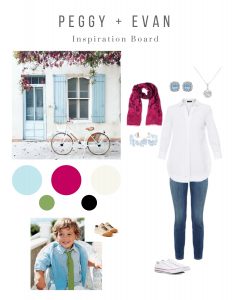 Peggy looked absolutely stunning with her Spring Fuchsia scarf & lips.  And Evan was just dashing in his gingham woven shirt.  I love how well the looks coordinated & complimented each other without completely matching.
Evan was your typical toddler, so curious & so much more interested in exploring than sitting still for photos.  (See the bottom of the page for help with how to prepare your toddler for a photo shoot).  He was in his own imaginary world of trains & bubbles.  He completely embodied that sense of adventure & exploration that is so magical in young children.
The Fabric of Family
It is more than evident how much fun these two have with one another.  Evan took every opportunity to be close to his mommy, to make sure she was right there next to him, to make sure she saw all the silly things he was doing.  Peggy never hesitated to give him all the love & attention he needed & wanted from her.
I'm so honored to have captured their story & to be able to share all of  this love & laughter with you.
Resources
If you're planning to be in a photo shoot & you need help styling your look.  I've got just the Blog post for you!  Here is a guide to help you learn how to create a stylishly curated photo shoot from concept & color to wardrobe.
If you're planning on doing a photo shoot with your toddler, then check out this Blog Post.  It gives you a tons of helpful tips & tricks to help keep you sane while trying to "get the shot", all without losing your mind!
Happy Mother's Day every day!
Cheers,
Ruby