SUPPORTING  ENTREPRENEURS  CREATING  REMARKABLE  BRANDS
Make meaningful connections with customers.  Capture the true essence of your brand.  Expand your reach.
PERSONAL BRANDING PHOTOGRAPHY  |  CREATIVE BRAND STRATEGY
– Be an authentic brand –
 – Align your image with your message –
– Look like you're worth it –
Want to learn how to create
Seriously Gorgeous & Genuinely Authentic Personal Branding Photographs?
Sign Up to my Email List & Get your Free Guide now!

Stop blending in.  Stand out from the crowd.
Do you have an online image that doesn't reflect you or your brand?

Do you struggle to know how to message to your ideal client without feeling like a pushy car salesman?

Do you feel like your online presence looks amateur and unprofessional?

Are you confused about what your brand should even look like?

Are you using stock photography that looks generic and uninspiring?

Do you wonder what your ideal client wants to hear, see and feel from you?

Do you wonder why your website fails to convert prospects into customers?
STREET CRED.
I don't just take pretty pictures.  I care about telling your brand story.
The Process
Consult

Through many in depth conversations, I take time to learn and understand your business goals.

Collaborate

Together we build the foundation and strategize the visual messaging for your brand.

Create

I design your brand identity, you approve it and we then we take pictures.
"Ruby helped me work through my key brand and image questions.  She helped me to focus on what I want my professional message and image to be – and that has been so amazing.  She was high touch, gregarious and very prepared for our time together.  I couldn't have asked for a better experience."
Britt Provost, EVP of People & Culture at Apptio

I know that you have a burning desire to be a change maker.  As an entrepreneur, you can't help but dream of turning your brilliant ideas into a profitable reality.  You want to utilize your experience, your talent and your god-given gifts to make a real impact on your community and the world.  
But in order to do that, you need a branding expert and photographer that can help to position you as the industry leader that you are.  The problem is you don't know how to create the brand image that you need to get you there.  You haven't found the stock images that can accurately tell your brand story.  They're generic and usually uninspiring.  I know how frustrating it is.  You feel like you will never meet your full potential.  I've been there.
Guess what, it doesn't have to be that way.  I believe in how hard you've worked to get to where you are today.  I believe that you have the talent and the expertise to make a real difference in the world.  I believe that the world deserves to see your brand vision come to life.  
I understand how hard it is to find a photographer that also understands branding,  which is why I developed a unique strategy to merge branding, design, & photography together.  After 16 years as a design leader for a major lifestyle brand, I have refined my skills both creatively and strategically so that I can help you tell your visual brand story.
I know it seems complicated, but it's actually a fun and easy process.  You don't have to do this on your own, I'll be with you every step of the way.
The plan would go something like this:
First, we meet for a consultation and discuss your brand's needs.
Second, we collaborate on each important element of your brand story.
Third, we create the photos to support your brand.
So, book your session now.  
In the meantime, download your FREE guide for How to achieve a consistent brand image in 5 simple steps.
Stop feeling like you will never be seen, felt or heard, and instead start influencing people and create the positive changes you want to see in the world.
Personal Branding Photography
What's the Investment?
How much is it costing you to have an inconsistent and confusing brand image?  Who is missing out on your brilliant idea because your ideal client can't tell you apart from your competitors?
How much money could you save by hiring an expert in branding, creative direction, design and photography?  
The answer?  Thousands of dollars in revenue and savings.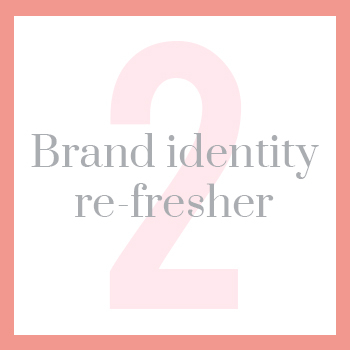 WHAT'S STOPPING YOU?
WHY I DO WHAT I DO
Do you want your brand to be mediocre or magnificent?
I believe that all you really need is a camera & the courage to accept that powerful photos are made from within.
I can help you connect with your ideal client with visual content that is designed to capture your truest, most authentic self.
BE UNFORGETTABLE
Intrigued?
Want stylish photos that tell your brand story?
Want to capture the true essence of you & the business you've cultivated?
Through artfully crafted visual designs you will evoke an emotional response that will connect with your ideal client.
BRING YOUR BRAND STORY TO LIFE!
As an entrepreneur you have made the decision to finally fulfill your life's true purpose.  Now all you need is the visual content to pull it all together.
Get your FREE guide on how to take personal branding photos to the level of excellence to build the brand story you have always dreamed of.
You are worthy of living your highest and best self.
This is your time.  Don't miss the moment.
Branding is about the promise of a distinct, memorable experience.  Create expectation and deliver it consistently every time anyone comes into contact with your brand.
FREE GUIDE
HOW TO ACHIEVE A CONSISTENT BRAND IMAGE IN 5 SIMPLE STEPS